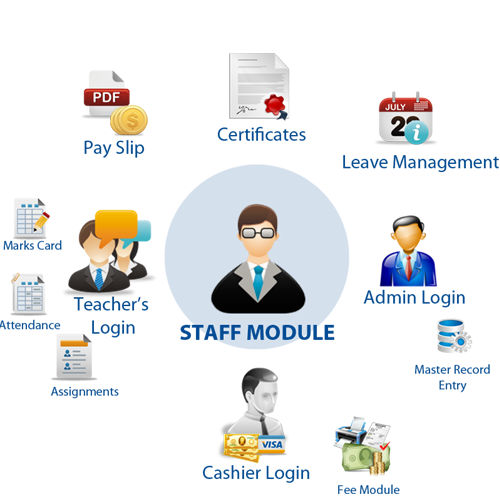 Faculties are the indispensable part of any academic institution. Hence, it is necessary to take care of them by making their work effortless. Our Login Module creates a personalized space for the staff where they can manage their work more effectively plus effortlessly.

Staff module helps school to manage all the details associated with the staff such as staff details, staff profile details, Staff people include HR, librarian, Assistant, peons, admin, management etc. Staff working details such as attendance, Time table, meetings, grades, salary details etc., It provide unified view of employees occupational and financial information to management or to the human resource to have clear understanding of the staff.

It facilitates staff to invest more time and efforts in strategic matters and teaching students than to carry out tedious admin work. It also removes ambiguity and duplication of work process and reduces back and forth flipping of papers which ultimately result in efficient staff performance.

With the help of software staff can view their personal profile, can apply for leave, view their pay slip and also access school calendar from dashboard.